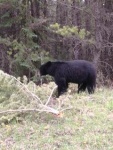 2017 May Long Weekend at Riding Mountain National Park, MB
Ten Freewheelers gathered amidst the beauty of Riding Mountain National Park on the May Long Weekend. Thanks to VP Geoff Ellis for initiating this outing, organizing the camp sites and checking out a possible "to do list".
For those who have never been, Riding Mountain is huge, with over 400 km of trails for hiking and cycling, as well as numerous lakes, an abundance of wildlife, and of course, the inevitable National Park tourist amenities.
Wasagaming, the townsite in the heart of the park, provides shopping and eating opportunities, as well as an interpretive centre, and access to the main beach at Clear Lake.
The WFWs set up camp in lovely treed sites of the Wasagaming Camp Ground, close to clean bathrooms and hot showers. Nights were a tad chilly in the tent, but fortunately everyone came prepared with extra blankets and clothes. Culinary talents were in full display, and campfire conversations ended the evenings. Riding Mountain offers some interesting accommodation options. Check out their web site for "otentiks, Micro-Cubes and Double-Tents". Pretty cool!!
Park trails were not all cleared and prepared this early in the season, but we chose to cycle a portion of the sixty-six kilometre Central Trail on Saturday. Beautiful day! Great ride! We dodged bits of deadfall and the occasional soggy low spot. We even challenged our collective engineering chops crossing a small stream. Lourdes, Geoff and Jack get bonus points for getting us and our bikes all across safe and dry.
Sunday saw some of the group venturing off on a little hike, abbreviated by on-and-off showers for which we were ill prepared. The others cycled out on a trail leading to Grey Owl's Cabin. Word of a ticked off bear turned them onto an alternate route. Some of us checked out the village, enjoying a fine meal in one of local restaurants.
Monday, post breakfast, we broke camp and headed for home. I think I can say we'd go back any time!